Lapel Pins
Whether you're launching a new product, hosting a trade show, reinforcing your brand image, rewarding employees or having a company function, lapel pins are an inexpensive way to convey your message. We will help to guide you in which style pin is best for your graphics.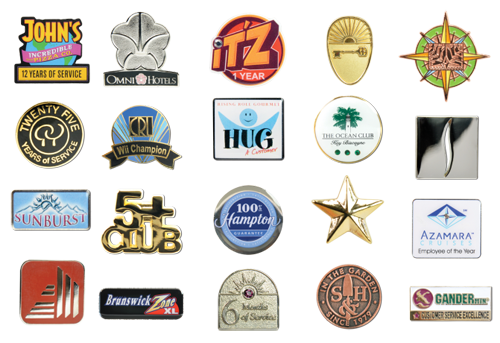 Our art team is ready to design something special for you! To create an extra special presentation, put your pin in one of our presentation boxes or on a presentation card!
Cloisonné Lapel Pins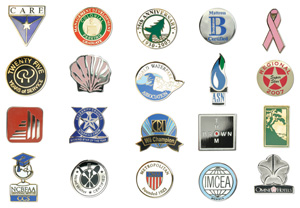 Cloisonné brass pins are the highest quality pins with jewelry like appearance, and the highest perceived value for a pin. Your design is stamped in brass and recessed areas are filled with colored glass powder, fired at a high temperature and polished to a rich finish, this provides a hard durable pin. Color matching is available.
Soft Enamel Lapel Pins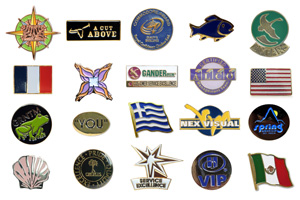 Classic look of a cloisonné pin but more economical and made of iron not brass. The difference between cloisonné and a soft enamel pin is that the paint is not filled to the top and not baked to a hard finish. The raised areas can be polished or brushed and can have different finishes like gold, silver, black or copper. The areas are filled with enamel paints creating a dimensional look. An epoxy dome can be added to prolong life and PMS color matching is available.
Silk Screened Lapel Pins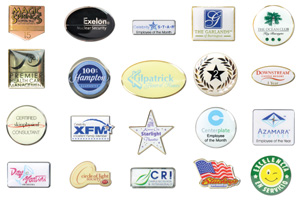 This is a great choice when there is high detail in the logo or design and would be too small to color fill and when perfect reproduction of a logo is necessary without using metal lines. This is also a good choice when there is verbiage on the pin. Up to four colors are suggested. This pin comes standard with an epoxy dome to enhance and protect the image.
Die Struck Lapel Pins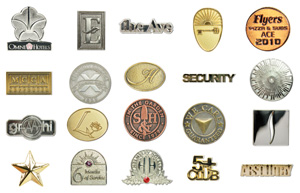 This all metal pin has a classy look. The raised areas can be highly polished and the recessed areas can be textured with a brushed finish, creating extra contrast between the raised and recessed areas. Another option is to add a sandy texture to the entire pin. Antiquing the metal finish can be added to help add more dimension and clarity to the pin design. Popular finishes include gold, nickel, black nickel and copper.
Photo Process Lapel Pins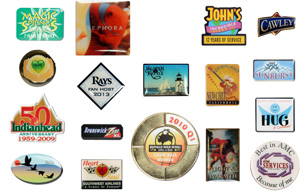 This is the only process for lapel pins that allows for gradation in color. The process is capable of reproducing photographic quality images on the metal pin. The pin comes standard with a clear epoxy dome which enhances and extends the life of the pin. We suggest using at least 300 dpi images to get the best quality for your final product.