Systems
If you are looking for a system to personalize badges yourself, you've come to the right place! We offer many different Do-it-Yourself Systems so that you can personalize your badges on-site in minutes. No more waiting for your badges to arrive by mail. Save administrative time and control your program. We'll show you how to keep your look consistent, make identification easy, and re-use your badges to keep cost down.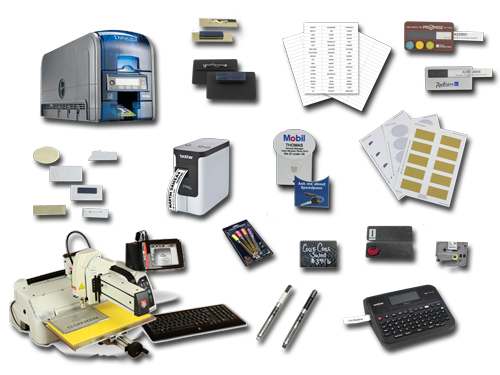 Overlay Print System - Reusable!
Our patented Overlay Print System enables you to create reusable badges at your facility quickly and easily. With this highly cost-effective system we supply the pre-printed badge plates with your company logo, and then simply use your existing labeling machine or one of our Brother P-Touch Printers to print the names. Next, apply the personalized label to the self-adhesive badge plate and carrier of your choice .The badges are reusable by removing the existing label and replacing with a new one. The label peels off clean without remaining residue left behind. Carriers are available in a variety of shapes, sizes, and colors with your choice of fasteners. If you purchase an electronic labeling system from The Cawley Company, we guarantee its repair or replacement at no cost to you for as long as you use our name badges. Use with our patented Cawley Badge Print Software to create consistency in your badge program. Each machine comes with our
Organization Kit
that helps you assemble your badges and keep all your extra badge carriers and logo plates organized in one place.
Direct Print System - Reusable!
We have paired with Datacard and IDP to bring you a line of printers that work with our Direct Print System. Large batch printing of badges has never been so easy! Our patented Direct Print System enables you to produce professional looking, long lasting badges within seconds - at your facility. We supply the pre-printed plates with your full-color company logo. The digital badge printer makes it easy to print a database of names and titles quickly, printing up to 190 badge plates per hour! Simply upload your list of names, print your name plates and adhere to your badge carrier. Its compact design makes it easy to move around if needed. Pair with our scratch resistant domes to extend the life of your badge and bring out the sharpness and detail of your logo. Badge carriers are available in a wide variety of shapes, sizes, and colors with your choice of durable fasteners
Insert System - Reusable!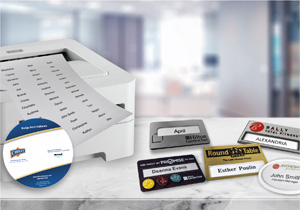 This economical personalization system, uses perforated heavy paper stock that can be used with your existing laser or inkjet printer. No equipment investment necessary. Each 8-1/2" x 11" sheet of paper allows for many personalizing cells, on just one piece of stock! We send you the name badge or pre-printed full color logo plates ready to go. Simply upload your list of names and print your sheets using our patented Cawley Badge Print Software. This software maintains consistency in your badge program!
Write-On System - Reusable!
Our Write-On System is easy, affordable and creative. Add a fun, casual and personal feel to your name badges and signage by using a variety of markers to quickly and easily decorate these products. Easy to change for a new employee, just wipe it off. Have a new buffet or deli item? No problem, just wipe it off and re-label your items! The Write-On System options are water soluble chalk markers that simply can be wiped clean with a damp cloth or permanent markers that can be washed off with our special marker remover dabber. We will add your full color logo to the items and ship to you, ready to personalize. Great for name badges, signage, and food identification!
Laser and Inkjet System - Reusable!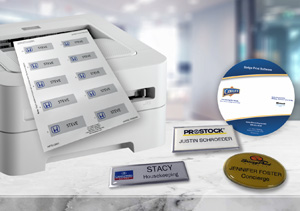 Generate professional looking name badges with our unique Laser/Inkjet System. We will send you our specially formulated adhesive sheets pre-printed with your logo. Simply upload your list of names using our patented Cawley Badge Print Software and print your badges. Then, simply adhere the scratch free polyurethane dome over the printed label and attach to the carrier of choice! You can flood print your badge sheets with full color or we can print your logo on a white, gold or silver background. Having extra logo sheets on hand allows you to print your badges when you need them. No more waiting!
Cling Print Laser System - Reusable!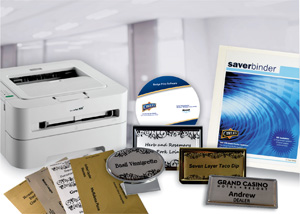 Personalize your badges and buffet identification, on site with your existing laser printer! We provide you with our unique designer die cut sheets pre-printed logo or designer borders. Use our Cling Print System Microsoft compatible templates or our Cawley Badge Print Software and print your products in minutes! Choose from many standard shapes, sizes and colors, or let our art team design something especially for you. The great thing is buffet signage can be used over and over again. Simply remove the cling plate from your badge of buffet and put into your Cling Saver Binder for future use, then change out with the special of the day. Your name badge carriers are reusable also. Peel off your personalized plate and replace with a new one! It's that easy.
Rotary Engraving System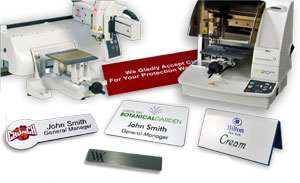 We have teamed with Gravotech to bring a name badge and sign engraving program to our customers looking for a permanent solution and have large onsite program needs. These high tech systems will allow you to engrave a variety of items, from signage, to ID plates to name badges. For more information on how to pair our badge and signage products with Gravotech engravers please call and speak to one of our representatives at 1-800-822-9539.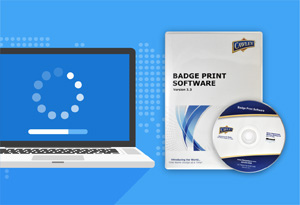 Cawley Badge Print Software is a Microsoft® Windows® program designed to print images and text for personalizing name badges in a quick, easy and consistent manner. This patented program is designed to be used with a variety of our personalizing systems including the Overlay Print System, Direct Print System, Insert System, Write-On System, Laser and Inkjet System, and Cling Print Laser System.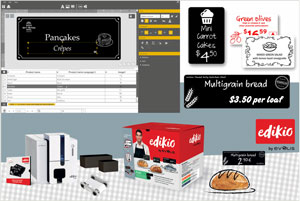 Cawley has partnered with Evolis to offer you systems to identify and price food items on display. Create visually appealing, professional cards that match your establishment's brand image and heighten your visual identity. A variety of solutions allow you to design and print attractive plastic cards quickly, easily, and economically, all from the comfort of your business. Edikio Guest is great for buffet food identification and Edikio Price Tag is great for food identification and pricing. Hygienic, sturdy, and easy to keep clean, these PVC cards are particularly well suited to work with you food items. Choose from a large selection of plastic and metal stands and picks to display your information professionally. The dedicated software also includes a database of stock icons and images to choose from.