Food ID/Pricing Systems
Print your own buffet identification and price tags. Edikio offers two all-in-one solutions to let you design and print attractive labels quickly and easily while cutting costs, all from the comfort of your store or establishment: A) Edikio Guest: Display/Food labels B) Edikio Price Tag: Price Tags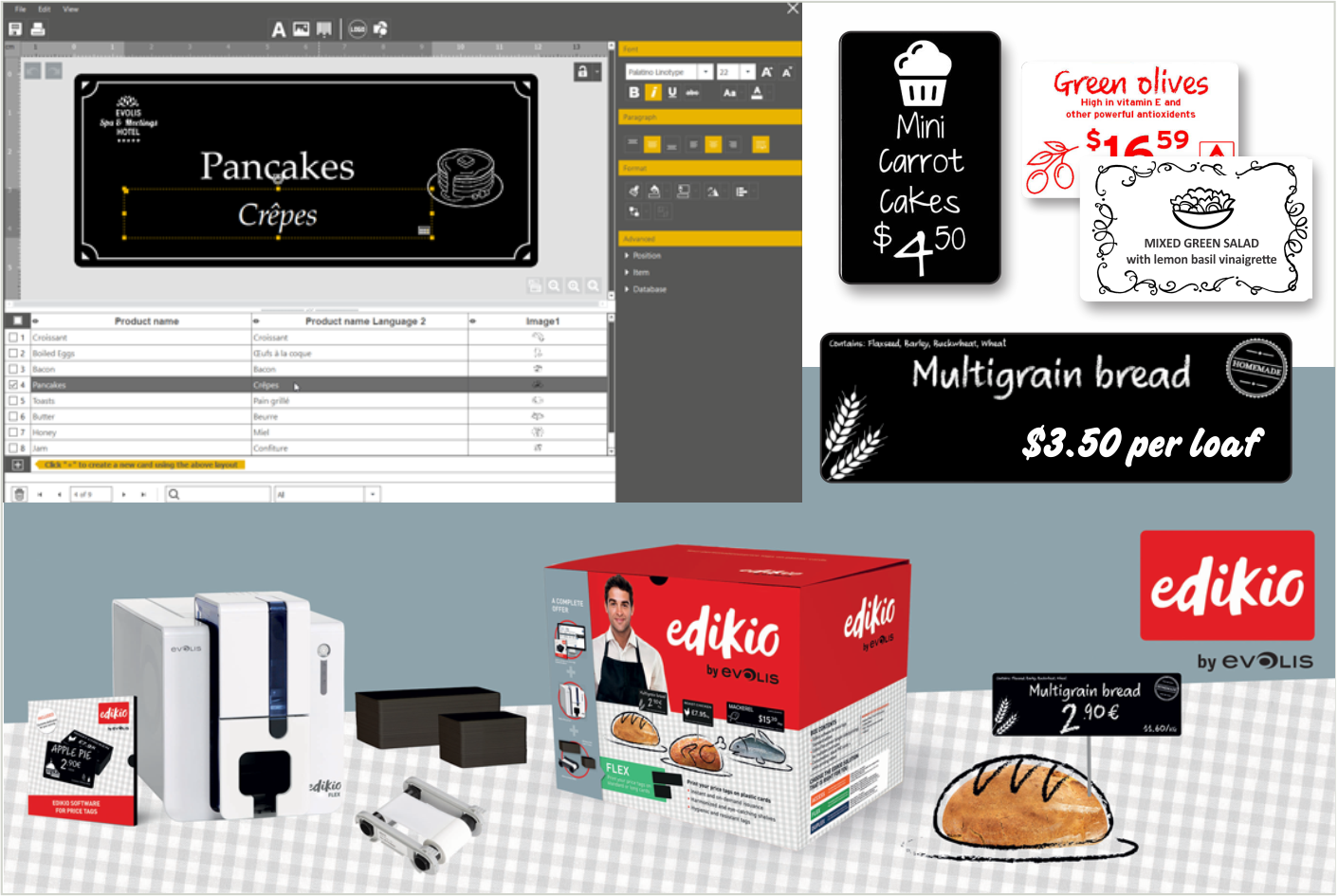 Edikio Guest: Buffet/Food Identification Systems
Great for food identification for your buffet line. Guest Acces for up to 500 prints per year and Guest Flex for higher volume users.

*Stronger brand image
Create visually-appealing, professional display labels that match your establishment's brand image and heighten your visual identity.

*Clear, comprehensive information
Provide all the information your clients need and help them make fast, informed choices: product names in their languages, ingredients, allergens, etc.

*Complete flexibility
Enjoy total independence by creating your own display labels in a matter of minutes, from the comfort of your desk.

*Hygienic and high quality
Hygienic, sturdy and easy to keep clean, these PVC cards are particularly well suited to establishments that serve food.
Edikio Price Tag: Innovative & Professional Price Tags
Great for food identification and pricing. Price-Tag Access for up to 500 prints per year, Price-Tag Flex for higher volume users, and Price-Tag Duplex for two-sided applications.

*Enhanced brand image
Give your shelves a facelift with consistent, fully customizable price tags.

*Prices updated quicker
Update and print your tags yourself on demand, in under 10 seconds and directly at store location.

*Compliance with applicable regulations
Easily display all the mandatory consumer information: origin, price, unit of measurement, ingredients, allergens, etc.

*Dedicated for use in the food industry
Easy to clean, resistant to cold and moisture, PVC cards are ideal to highlight your products in your fresh food sections.